Bukhari Hadith 1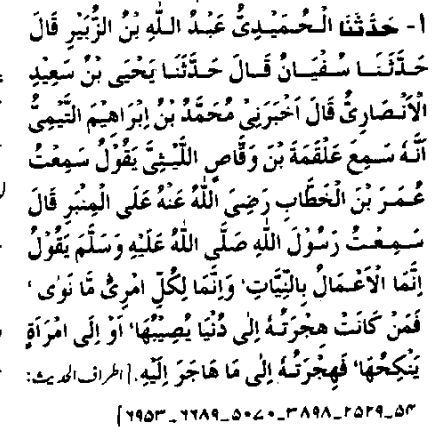 Innamal A'malu Binniyat Hadith With Reference
Bukhari Hadith 1 – Innamal a'malu binniyat hadith in english
Umar Bin Al-Khattab (ALLAH be pleased with him) narrates that
"The reward of deeds depends upon the intentions and every person will get the reward according to what he has intended for. So whoever emigrates for worldly benefits or for a woman to marry, his emigration will be for what he emigrated for."  [Sahih Al – Bukhari, Volume 1, Book 1 – The Book Of Revelation, Chapter 1, Hadith 1]
Explanation:
This hadith implies the significance of intentions.  The Prophet (Peace be upon him) said it on the occasion of emigration of a person from Makkah to Madina, not for the Islamic cause but to marry a woman. The man has proposed a woman in Makkah. The woman emigrated to Madina and therefore the person also emigrated in a desire to marry her.
Anyhow this hadith explains a general principle that one is rewarded for his deeds according to his real intentions not according to the actual deed which might seem that it is done for the sake of Islam in appearance, but has different intention behind. So, if you do a deed (good) for the pleasure of ALLAH and his Prophet ﷺ you will get a very high reward, if you do it for the sake of heaven you still get rewarded, and if you do a deed for worldly reason you get whatever you intended for, i.e.,  a permissible act is permissible and impermissible act is impermissible.
Bukhari Hadith 1 – Innamal A'amalu Binniyat Hadith In Urdu
Imam Bukhari ne kaha keh hamein, Humaidi A'bdullah Bin Zubair ne hadith bayan ki keh unhone kaha keh hamein Sufyan ne bayan ki, unho ne kaha keh hamein Yah'ya bin Saeed Ansari ne hadith bayan ki, unhone kaha keh mujhe Mohammad bin Ibrahim Taimi ne khabar di keh unhone Alq'ama bin Waqas Laisi se suna woh kehte the keh maine Hazrat U'mar bin Khattab radiallahua'nhu ko mimber par yeh kehte huwe suna keh maine RasoolAllah ﷺ ko farmate huwe suna keh:
"Aamal ka daro madar sirf niyyaton par hai. Aur har shaks ke amal ke badle wohi milega jiski usne niyyat ki. Toh jiski hijrat dunya ki taraf ho jise woh hasil kare ya aurat ki taraf ho jise woh nikah kare toh uski hijrat usi ki taraf shumar hogi jiski taraf hijrat karne ki usne niyyat ki". [Sahih Al – Bukhari, Jild 1, Kitab 1 – Kitab Al Wahi, Baab 1, Hadith 1]
Tafseer:
Jis tarah Quran e Majeed ki aayaat ke Shaan e Nuzool aur asbaab hote hain, isi tarah baaz ahaadith ke bhi asbaab hote hain. Yeh hadith us waqt nazil huwi jab ek shaks ne Makkah se Madina aurat se nikah ke liye hijrat ki. Ek Shaks ne ek aurat ko nikah ka paigham diya tha, jab woh aurat hijrat karke Madina chali gayi toh woh shaks bhi isse nikah ki raghbat mein Madina chala gaya. Us mauqa par Huzoor ﷺ ne yeh hadith bayan farmayi. Is hadith se ek umoomi qaida maloom hota hai keh Kisi bhi kaam ka ajar niyyat ki bina par hota hai. Niyyat ke mutabiq usko uska ajar milta hai agarche bazahir neik kaam kar raha ho. Agar ALLAH aur uske Rasool ke liye koi amal (jaiz) kar raha hai toh usko uska sawab milega, aur kisi aur niyyat se kar raha hai toh usko wohi milega jiski usne niyyat ki.
Har amal ki sehat ka aitbar uski niyyat se hota hai. Yani agar uske amal se uska qasad ALLAH ta'ala ki raza hai toh uski sabse zyada fazeelat hai. Agar us amal se uska maqsad jannat ka husool hai toh isme bhi fazeelat hai aur agar is amal se uska maqsood dunya ka husool hai toh agar dunya ki woh cheez mubah (Jaiz) hai toh mubah hai aur agar woh cheez najaiz hai toh woh kaam najaiz.
Innamal A'amalu Binniyat Hadith In Urdu
,
Innamal a'malu binniyat hadith in english
,
Innamal a'malu binniyat hadith in english explaination
,
Sahih Bukhari Hadith 1
,
sahih bukhari volume 1 book #1 hadith #1